About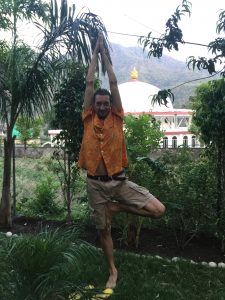 Yoga instructor Carlo Mancini(Yucca), registered with the Yoga Alliance professional UK, specialises in teaching Hatha Yoga and Prana Kriya Yoga. He holds classes weekly throughout London England.From the age of 14 Yucca was diagnosed with scoliosis. The severe sideways curves in his spine gave him acute back pain, neck pain and made him prone to injury.Over the years and even after treatment
"The stabbing pain I felt caused me to shorten my breath and contract my muscles causing them to spasm. This made it very hard to move.." he says.
By the age of 18 he turned to yoga. "I will never forget my first class; I felt as light as a feather and as powerful as an elephant at the same time" he shares. After regularly practicing yoga under the tutelage of Italian master Orfeo Bedini who had been teaching yoga for over 50 years, Yucca began to feel a change; His muscles became stronger and more agile which supported his spine with a firm alignment, it improved his posture and to his delight it finally reduced the chronic pain he was feeling in his back and his neck! Yucca's confidence grew! His passion for Yoga began!
Yucca took his newly discovered way of life to a professional level. He travelled to the Himalayan Mountains of India to complete a teacher training certification (registered with the Yoga Alliance Professional) specialising in Hatha Yoga. He was tutored by Yogacharya Dr Sanjeev Pandey Ji, who is a seventh generation master in yoga and pranayama.
Whilst back in London Yucca's yoga Classes began to grow, he rented a studio to hold them. Over the years, his classes became a welcoming community and alongside teaching his loyal students Carlo passionately and gratefully followed the training from his guruji master of yoga Yogi Ashokananda both here in London and at Ashok Tree Ashram, India, located in the spiritually  Tiruvannamalai, at the foot of a sacred Arunachala mountain, home of sage Sri Ramana Maharshi. Here Yucca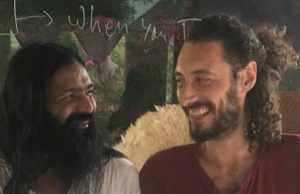 successfully completed the Prana Kriya Yoga and Himalayan Hatha Yoga teacher training courses. With this in depth teacher training Yucca has been awoken to the "benefits of precise yoga practice to enhance your entire wellbeing and understanding  of oneself. "It's transformative work" he exclaims.
Yucca chose to peruse this transformative approach further by successfully completing the Meditation and Mindfulness teacher training course, while studying at the Yogi Ashokananda School.
From his first experience of Yoga, to now, Yucca incorporates his continuous discoveries into his work. He is eager to share his passion for the elevating results of yoga on your life in a supportive and community driven environment.